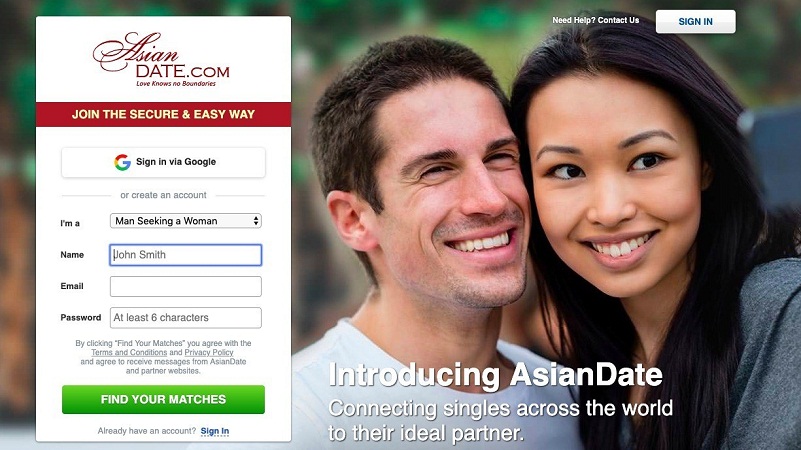 AsianDate.com was one of the first companies to develop a platform designed to connect people from around the world. It remains at the forefront of its field, continually developing improved communication technologies that allow people to discover and enjoy the possibilities of an exciting, globally-interconnected future. The dating site now has over 20 million members, more than 80 million visitors annually and 1.5 million+ messages exchanged daily.
Hot Chinese Models – AsianDate.com
AsianDate has some of the hottest Asian mail order brides you will find anywhere online. In fact, if you are dreaming of dating hot Chinese models. It is probably the best place on the internet to begin your quest. There are a lot of beautiful Asian ladies on the site now. But you should check back regularly to AsianDate because they make it their business to find super hot Chinese models, beautiful Filipina girls, and sexy Thai brides.
AsianDate is owned by Anastasia International, and as with all the sites in the Anastasia, family communications flow exclusively through their site, and all personal data and contact information is deleted from your emails.
RELATED ARTICLE: TripTogether.com
Frequently Asked Questions
How do I delete AsianDate.com account?
Account deletion can be requested through email correspondence with AsianDate customer support.
How do I chat with users on AsianDate.com?
In every search query result, there is a chat option which you can just click to begin chatting right away. However, this is not a free feature.
Is AsianDate safe to be a member of?
AsianDate has terms and conditions for fair use. It is up to you if you want to pay the website for its features.
Can I send a message for free at AsianDate.com?
Only the first exchange is free at AsianDate. If you want to interact with the members more, you'll be asked to upgrade by purchasing Credits.
Are the profiles in AsianDate.com real?
The authenticity of the profiles in AsianDate is controversial. There have been reports of stolen photos of women found on the website.
What is the price list of AsianDate.com credits?
20 Credits for 15.99 USD
160 Credits for 96.00 USD
1,000 Credits for 399.00 USD
What are the paid features of AsianDate.com?
There are many special features on AsianDate
Reply to letters Live
chat with female profiles
Cam Share
View videos on women's profiles
Virtual Gifts Flowers and presents delivery
Three-way call with an interpreter
Is AsianDate expensive?
Yes, In comparison to other providers AsianDate is expensive.
How does AsianDate.com Work?
Asiandate.com helps Western men liaison with the best in Asian women through a network of over 1000 dating agency partners located in cities across Asia. Asiandate.com brings romantic couples together in a number of ways starting with Search,
Email Correspondence and
Call Me, then move to "live" platforms such as organized dates in Asian.
What is Love Note on AsianDate.com?
It is easy to catch the Lady's attention by sending her Love Note absolutely free for you.
Just find the "Love Note" icon in her profile,
choose one of the most beautiful cards and
click "Send for Free".
Phone Number: +1 (800) 311-7598
Address: 551 5th Ave, New York,
NY 10017, United States
Reviews
Sites are full of scam
Most of these dating sites are full of scam artists especially pretending to be females or may be real trying to scam people into getting monies from someone who can be victim to their charm & gets ripped off.
Biggest rip off money making scam
Biggest rip off money making scam around, they keep you on text women then when you run out of coins they suckered you into buying more justso you keep talking to women, should be investigated into
Terrible waste of money
I implore anyone contemplating using this site that you DO NOT. Terrible waste of money, it's such a poorly run site. One of the worst I was ever on. So many fake profiles, many profiles with no photos. Most matches are too far away, ignores your criteria. Just a bad experience. DO NOT JOIN THIS SITE.
I don't want to insult
I was trying to get a refund after trying and looking for a day but no answer. I finally got a hold of someone who told me I have to ask Apple for the refund. I wanted to cancel because the clients they have are not the features I was looking for. I don't want to insult but this is a site to distance yourself.
It is a total scam
I paid for a six month subscription but did not realize I had to pay the total amount upfront. I have filed a dispute with PayPal. It is a total scam… stay far, far away.
This site is a complete waste of money
Also would rate a 0 if possible. This site is a complete waste of money and by far the worst one I have ever been on. Matches are very limited and the ones that are sent are never ones I would be interested in. I have been on several other dating sites and had a much better experience.
Fraud
Membership cancelled months ago. They reactivated my account without my consent and took money from my bank account
The website is terrible
If I could give no stars I would. There is no filter. Age, location, none of this matters.They just send anyone who is of the opposite sex. And the profile is useless. No important questions are asked, and it wouldn't matter anyway. The website is terrible. Please don't bother with this site if you haven't already signed up. Its basically tone deaf and useless.
Sad to see such attitude
Sad to see such attitude, but their photos, questions and attitudes are very political oriented. If you have different political belief, you will have difficult and hard to deal with.
Money scam
Inaccurate cancellation policy. Worst service i have ever received. Tried to cancel immediately and now 6 months later I have debt collectors after me. The absolute worst , shameful money scam I have ever had the unpleasure of dealing with.
Not a good company
Not a good company. I have two friends that got blocked. And it really look if you do not sign as a paid member they block you. And the dating on that sire is the worst I ever experience. Endless writing and no meetings.
I found it a quite boring site
I found it a quite boring site, no one talks/chats at all plus repeated profile's over & over again, took out a 3 months subscription after a week ask for my money back which they did promptly I might add, I get messages now someone asking a question, but when you look it's a standard generated computer question on there behalf to get you 'chatting' so your replying to someone who is not interested in the first place & think your odd, fell for it once & they ask for payment to read them, what a shameful scam , don't play on someone's heart in finding that special person, yes you need funding for your site, but do it the correct way by making a site work for people looking like me not this old nonsense..
I'm not very happy
Hi I joined you once then canceled my subscription and then found out that they still took money out of my bank account without my permission and that's why I think this company is not what it seems to be. I'm not very happy. All I wanted to know is why they took my money even after I canceled my subscription with them.
Unable to cancel contact
Unable to cancel contact, thought I was paying month to month, however they refused to let me cancel within a few days. I emailed them and they agreed to cancel however then a month later I noticed that they were still taking out payments. Now they are demanding $250. besides the monitory aspect of this app, it is a very poor quality app it works not very well with messaging, it's buggy, the selection of people is very poor as it doesn't have a widely used platform. Being a 26-year-old male there was only around six people my age in the platform and I live in a busy and populous suburb and part of New South Wales. I have sent multiple emails explaining this however they are not interested. This bunch of con artist work by their marketing on television and on social media, however it is a very poor platform to look for a relationship much more recommended would be a platform like hinge. Especially for younger adults.
It was useful
It was useful and the site provided me much intel and I have met a wonderful women
This site is the biggest scam
This site is the biggest scam do not give theses people your money it's nothing but fake profiles made by this website they down load random pics of good looking girls from the internet and make a fake profile with there pic so when u get a message u think Someone is interested in u who might be way out of your league you try to message them back and get no response or they will message u back telling u to contact them and that's it by far the biggest scam don't fall for it like I did they will sucker u in to singing up by making u think girls are trying to message u be cause singing up is the only way u can read them also don listen to fake reviews saying how good of a site it is cause there lieing.
Terrible site!!!
Terrible site!!! I joined this site hoping to find friendship, which I hoped would lead to a relationship. After using the site for a few days it became apparent that it was not the right fit for me. I tried to cancel my account and requested a refund, which I was denied.
It's an absolute joke
It's an absolute joke to be honest, I've been on for 3 months now and I've been hacked for one , I've been on the internet for over 20 years now and I've never been hacked but they reckon it's my fault for not being secure.Save your money.
Total fraud and misleading
Total fraud and misleading
Biggest rip off
If only I had read these reviews !! Biggest rip off imaginable. I get sent matches each day, most do not live anywhere near me and in some instances include MEN..go figure. Like another contributor a constant stream of women from Sydney all either 50 or 51, all widowed, most 165cm. and wanting to have children ..total rubbish. I suspect these people are running a number of dating sites, they should be charged with theft !! I tried to contact the site who recommended this site and guess what, the message bounced straight back. STOP THEM !!!!
Making on our first date
I met a lovely babe . And we had a very hot and romantic love. Making on our first date. I can never forget that day. The lovely babe is currently the mother of my baby .
Have fun and enjoy
Great for meeting people, been good fun, now just taking a break as I've met a nice lady. I would recommend this site to other people, have fun and enjoy, cheers.
Was a great experience
Was a great experience and I found a woman who I was compatible with and really connected with…. The platform was a good exercise so I thank for that.
It is very legit and trusted site
It is very legit and trusted site. Anybody can create their account on this site and enjoy dating. I personally visited on this site and after looking for each and every points than i create my new account on this site.
Nice App
No expectations. But the beginning of this journey was bumpy, because there were so many, and such diverse group of people. The app learned my preferences quickly things went smoother from there.
Worked for me
Worked for me, found My soul mate within 2 days
I can really recommend this site.
I can really recommend this site.
Thumps up from me
I really need to say that this has been a really good experience. Thumps up from me – i would warmly recommend to anyone!
It has a smart interface
This dating site is very easy to use. No problem in performance – everything is clear. It has a smart interface. There is no useless information and freak profiles. The first thing you will be really impressed with is a way of connecting your matches, options and communication tools.
This app is very amazing
This app is very amazing a useful for all people , it give them the opportunity to connect with each other easily and give them very good things , thank you very much for this good job
Very clean and easy layout
It's a great site with a very clean and easy layout. I've met a number of partners over the years on here, both for casual hookups and longer-term relationships.
Thank you so much
Thank you so much for creating and maintaining this site. I just finished an amazing five month relationship with a woman I met here and have a deep ongoing friendship with another. Being on here has also lead to some wonderful times with girls who already knew me before seeing me here.
Be patient
I was about to give up on this and other dating sites. Kept with it though and in a couple of days I met someone. It takes some time, so be patient and have fun with the search process.
It was better than expected.
It was better than expected. I signed up on an advice of a friend, who found his girlfriend on this site. I was single for a very long time, and he thought I needed some cheering up. I didnt think it would work, but my friend was very persistent. If he wasnt, I would have probably still been single. I personally have no complaints about the site. Of course, success didnt come over night. I chatted with a couple of girls.
This site is FULL of scammers and frauds
This site is FULL of scammers and frauds. I can't even count any more how many scam messages I have received. The only reason I haven't deleted my account yet is because I make it a point to report each and every scam/fraud message I receive.
Absolutely nothing
I am not prefect for everyone, but absolutely nothing is pretty bad.
Dont waste your time
Dont waste your time instead to put them in jail
I'm certainly not recommending this site
I'm certainly not recommending this site after asking for a refund not long ago from them everytime I try to remake a new account they keep kicking me out for unfounded reasons I'm taking this to an ombusman
Canceling Account on Asiandate
Canceling, not paying to talk to someone and only receiving out of state interest. I stated my interest but continued to get responses from our of the country or USA.